Growing our Church Family through loving God and our neighbour
Welcome to the website of St. Margaret's Church and Community Hall. We hope that you find the information you need here.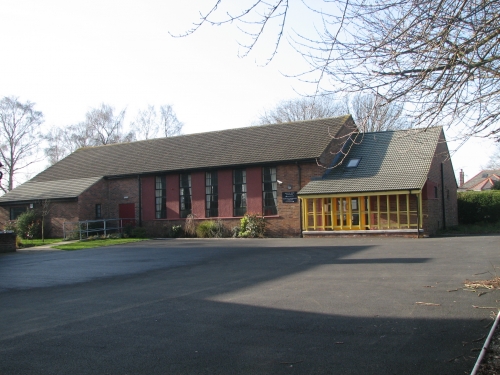 IMPORTANT NOTICE ABOUT CORONAVIRUS
The hall is now open for activities that are allowed under the current legislation. Up to 15 no. people may attend an organised indoor event (more if aged under 11, up to the set room capacity). Our published protocols for social distancing and other precautionary measures must be observed, as a condition of hire (see link below for COVID-19 Special Conditions).
Please note that face coverings are legally required to be worn inside public buildings for those over 11 years old, although certain exceptions apply. However, masks may be removed when exercising.
Regrettably, the hall still cannot be used for some social gatherings such as parties or events that involve eating, drinking, singing or playing musical instruments. We will try and keep regular clients informed about any further developments.
The hall is now used not only by the church, but also by the wider community of Garden Village and beyond. We welcome enquiries about hiring this popular venue and our contact details are given below.
St. Margaret's Church & Community Hall
Chester Road
WREXHAM
LL11 2SH
Email: stmargaretshall@btconnect.com
or        stmargaretshallc@gmail.com
Telephone: 01978 354018 (24 hour answer phone)
The spacious hall was built in 1956 to a high specification including a stage and dressing rooms. A substantial part of the original cost of £13,000 was met by a bequest from the estate of Mrs. F. W. Morris, who had laid the foundation stone of St Margaret's Church on the 14th March 1928.
The hall was reopened in April 2006 for community use after extensive refurbishment funded by a grant of £140,000 from the Welsh Assembly. Further grants in 2007, 2008 and 2014 from WREN, AVOW, Wrexham County Borough Council and the Welsh Assembly have enabled the purchase of new curtains, banquet tables and chairs and the installation of double glazed windows.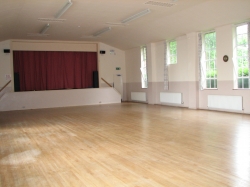 The hall is situated off Chester Road, within the grounds of St Margaret's Church. The church and the hall share a large car park and full security lighting.
The main hall floor is sprung maple and has recently been renovated. The main hall can seat about 200 people without tables, or about 100 people with tables. Heating is by gas with radiators on both sides of the hall. There is a ramped double fire exit from the hall to the car park.
The kitchen has a preparation area at one end and a serving hatch at the other. There are stainless steel worktops with a double stainless steel sink. There is a fridge, freezer, cooker, microwave and an instant water heater.
At the opposite end to the main entrance is a self contained meeting room, which can seat about 12 people. The meeting room has its own toilet, which is fully fitted for disabled use and a ramped fire exit to the car park. The church lounge can also be hired for some meetings.
CHILDREN'S PARTIES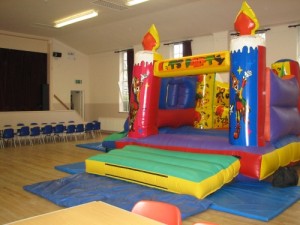 The hall offers a quality venue for children's parties. We can cater up to 60 children and the hall is large enough to accommodate a bouncy castle.
The cost of the hall, including use of the kitchen, is typically £45 for a 3 hour session. If you require it longer, the extra cost is £15 per hour. All we ask is that the hall is left in the same clean and tidy condition as it was before the event.
PRIVATE FUNCTIONS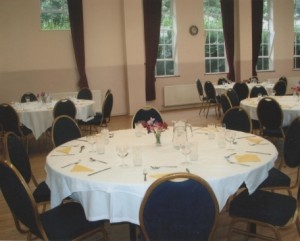 The hall can offer banquet facilities for up to 80 people, seated on high quality chairs around 10 large round tables. Please ask to visit if you would like to view the facilities.
HIRE CHARGES AND CONDITIONS
The basic cost of hiring the hall is £15 per hour. There may be an additional charge for any extra services provided.
The booking form and the conditions of hire can be downloaded from the links below. Please make a provisional booking first by telephone or email before printing and returning the booking form.
Special Conditions of Hire (COVID-19)
OTHER SUPPORTING DOCUMENTS
REGULAR CLIENTS
Please ask for the contact details of the leader if you are interested in joining one of these groups.
Karate – Monday and Wednesday evenings
St Margaret's Singers – Monday nights
Rock Choir – Tuesday nights
Art classes – Tuesday and Wednesday mornings
French classes – weekday evenings (occasional)
Singing for the Brain – Tuesday afternoons (occasional)
Shooting Stars Football – Tuesday afternoons
Zumba – Wednesday evenings and Friday mornings
Slimming World – Thursday mornings and evenings
Lymphoedema Support Group – Thursday afternoons (monthly)
Arthritis Support Group – Tuesday afternoons (monthly)
Parkinson's Support Group – Friday afternoons (monthly)
Footicubs – Saturday mornings